Wacky Jacqui's Designs is giving away a grand prize blog makeover. All you have to do is head over to her blog,
Wacky Jacqui's Designs
, and enter for your chance to win!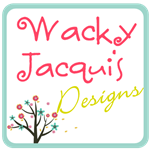 So you are wondering what the grand prize entails? Just about everything you could need. Here is the list:
• Custom background
• Custom header (basic or animated)
• Matching font color
• Sidebar titles (unlimited)
• Custom signature
• Custom post divider
• Social network icons (unlimited)
• Convert to a 3 column layout (if needed)
• Custom blog button (2 included)
• Matching profile picture
• Navigation bar with text or images
• Matching twitter background
• Favicon
• Deletion of Blogger navigation bar if desired
• Installation
Now that I really have your attention, what are you waiting for?
Now to tell all my blog readers why it is that I would like to win this prize! I have had my blog up and running since April. At first I had no idea where to start and had a very basic design. It wasn't just the design that had me lost though. I had never blogged before and wasn't even sure what I wanted to blog about. Since that time I have been working steadily towards a better functioning blog. I have used my limited knowledge to make my own blog button and have been reading articles on how to make my blog more attractive. Well....Wacky Jacqui's Designs could do that for me. I would love to see my blog finally looking the way I have been hoping. My blog could grow both aesthetically and non-aesthetically. I have been planning to start running giveaways soon but want my blog in order first. I don't want to scare away my readers with a sloppy design. So I am begging and pleading for Wacky Jacqui's Designs to "pick me, pick me." Just look at my blog. You know I need a new look! It would be the makeover I need! Even if you don't pick me I know the winner will be ecstatic. Your designs look great and anyone would be lucky to win.
Ok, if you are still reading then get moving to enter this awesome giveaway!